In a Nutshell: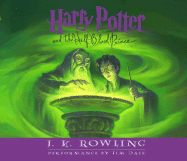 A retired potions professor has been asked back to Hogwarts. A professor who knows the horrifying truth about Lord Voldemorte and his powers - and Dumbledore is desperate to find out what that truth is. Harry Potter begins to excel in potions as he's found an old potions book written by the mysterious Half-Blood Prince. A few scenes of bickering, kissing, love, despair, frustration and devastation, surprises and shocks and well, that pretty sums up this instalment of the Harry Potter series and I would definitely not want to ruin it for those of you who have not read the book!
The Audiobook:
Jim Dale is the brilliant narrator of the whole series. I will most definitely make time to listen to Stephen Fry's narration too - but I'm not sure it'll be as awesome as Jim Dale's performance (sorry Stephen Fry, I love you!).
The Story:
Not too much happens in this one to be honest. It can be summed up quite quickly. It was beautifully written, but we basically see the introduction of the horcruxes, how Lord Voldemorte managed to survive the backfired spell and come back from the dead, we see professor Snape finally the teacher of defence against the dark arts. This book is significantly darker than the rest of the previous novels - and some of the characters are a little annoying. But generally speaking it is a good one, it's just a little longer than I feel it needed to be.