"All right, then, I thought: here I am in the bottom of a well."
Now this quite literally is the strangest book I have ever read. Although it was strange, and although it went against every literary convention I am used to, and confused me, and puzzled me, and frustrated me, and infuriated me - it filled me with such intrigue and such hunger that I almost feel like I need to fill the hole (with another Murakami book) that it left once I completed it.
The Wind-Up Bird Chronicle is made up of three books: The Thieving Magpie, Bird as Prophet, and
The Birdcatcher. All three books are narrated by the main character Toru Okada. He is a man-child, he has no job, no accomplishments, no aspirations and a failing marriage (though he does not seem to be aware of this).
The story opens with Okada being deeply concerned that his wife's cat has disappeared. This perplexes him so much that he becomes obsessed with finding it. One morning though, he wakes up to find that his wife - who had not come back from work the night before - was also missing and so he then searches for her. All the while, through all these searches, he bumps in to and makes friends with characters that veer from the odd to the outright weird.
I am realising that this sounds like the most bizarre description of a book ever... it's because the book is so fragmented and so strange. At some moments within the book you do not know if Okada is dreaming, telling the truth, is crazy, or imagining the personalities he meets or their stories. One thing you do know though, is that the characters that he meets (a psychic, a prostitute, a mute, a sixteen year-old girl, a war-veteran) bring a little colour to his otherwise grey world.
The Audiobook
The book is fabulously narrated by Rupert Degas. He does, quite simply, an excellent job in narrating and emoting a story that is quite chaotic.
His pronunciations of Japanese and Manchurian names and places seem to be so well executed that to my untrained ears it sounds as if he is a native speaker (of course I do not speak Japanese and this is just my uneducated assumption).
Degas does his best with the female character voices, which can sometimes be quite funny to listen to, but you do get used to it - and they do start to sound quite convincing!
The Story
I have to say that this book just blew me away, and maybe not for all the right reasons.
Whilst listening to it, I felt like I was pacing on a treadmill that I was unable to stop - that I was watching the brilliant imagery and scenes pass by me, not really able to absorb the scene before being moved on by the author to the next part.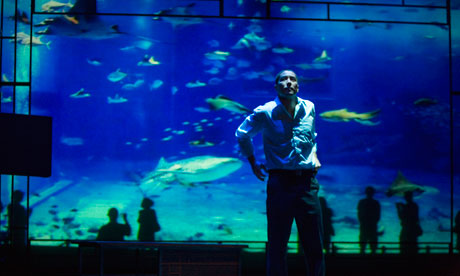 The Wind-Up Bird Chronicle on stage
Surreal images, scenes and situations are experienced or described to Okada and he seems to show the same confusion, or apathy that the reader does. The sub-plots, which are all so painfully curious, are threaded beautifully throughout the novel, but as one reaches the end it is easy to become panicked as you'll come to realise that not everything will be explained.
Destiny and fortune is a recurring theme personified, which is ironic, as Okada's lack of direction is reflected in the book's lack of direction. For those who love a tidy ending, and tight structure, this book will bug you to no end.
Everything about this book should have had me hating it.
But I really quite loved it actually. The book was so refreshing and so tantalisingly curious that I could do nothing but need to listen on. I found the story monotonous at times, the characters so bizarre that they were bordering on annoying, and the hardest part of the novel was that nothing really happens. All the while, Murakami is winding you up, making you hold you breath so patiently, sure that there is going to be a climax that will make your eyes pop out of your head - but there is nothing.... and at the same time, in true style, there is everything.
I recommend this to anybody who wants to try something new. Anybody who enjoys surrealist literature, and anybody patient enough to read 600 plus pages and run the risk of blinking at the end, confused as to what you've read.
---
P.S. Okado spends a good bunch of pages sitting down the bottom of the well, walking through well walls in to hotels and curing people with a spot on his cheek that he got from said well.
P.P.S. Don't let the above 'P.S' put you off.
---